iPoker App for Android

Update April 2015: Bet365 have released the iPoker Android app. One of the best known and highly regarded rooms on the iPoker network, bet365 are probably your best bet if you want to play iPoker on Android.
>>Get the Bet365 Android App HERE!<<
UPDATE June 2014: The first reputable iPoker skin to release their Android app is Betfred. Click here to take a look at it. It's actually pretty good!
UPDATE 2/04/2014: iPoker have announced that their Android appis coming soon. They also said in their release that the app is going to be based on HTML5 and will likely be an in-browser offering. Still no word on which operators are going to support it.
iPoker currently have the 3rd largest player pool in online poker and mobile poker is exploding so naturally you'd expect that they would make a mobile app available to their customers. Sites like William Hill, Paddy Power, Titan, and Bet365 all operate on the iPoker network and have huge amounts of players, and the demand for a mobile app is certainly there. So when is iPoker for Android expected to become a reality?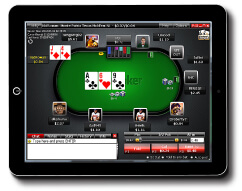 Well, if you know iPoker, then you probably know that their software development over the past 5 years has been nothing short of pathetic. They're essentially using the same crappy software for the desktop client that they started off with, and even adding re-sizeable tables took them about 3 years longer than everyone else in the market. Their most recent update which has included synchronized breaks and updates to the tournament lobby has been an unmitigated disaster. Reports of completely inaccurate numbers in the lobby, tables disappearing and hands being dealt with no cards have tarnished their reputation even further. When you see what a company like Winamax have done in just two short years using the Adobe Air platform, it puts further shame on networks that don't invest properly in software development. Having spoke to lots of regular players, the only reason people keep playing there is because of the standard of opponent, which has typically been very low.
iPoker are owned by Playtech who have successfully made casino apps for the customers so it's a bit of a mystery as to why iPoker have stayed silent on their plans for this hugely lucrative market. We've scoured the web looking for annual reports and  business plans that might give us an idea of when and if they plan to get on the mobile poker train but have come up empty.
As you may have noticed if you been looking around our site, the mobile poker app we recommend over the other is 888poker. As well as having a good poker app they also have a good desktop client and probably the worst players on any site around at the moment. So, if you you're sick of iPoker's terrible software and are looking to play on a good Android app we recommend that you download 888's app and see what you think. The $400 bonus alone makes it at least worth a try.
We'll update this page when iPoker's app comes out, but I'm not expecting it to be pretty!
Android Poker Sites