Poker on Google Nexus Devices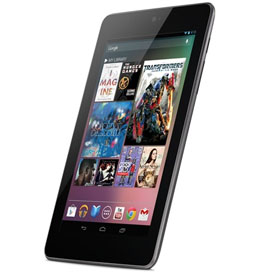 The latest Android tablet that is making waves is the Google Nexus 7 and larger Nexus 10, and for good reason. The price alone makes them a great buy and in my opinion they're probably the best tablet for online poker.
Despite the fact that the 7 comes in at between €200 and €250, it's still a great piece of kit and it runs every app you can think of smoothly and without any crashes. The battery life is fantastic and you'll easily get 9-10 hours of poker out of it from a full charge.
Best Poker Site for the Nexus 7 and 10
The good news is that the Nexus 7 is running Jelly Bean, the latest and greatest version of Android and that means that it will run all of the poker clients on the market, where older versions like Gingerbread ran into problems with some clients. Just remember that you won't find real money poker clients in the Google Play store, you'll have to go direct to the website of the poker room and download their app. Also, remember to allow non-marketplace apps in your settings or it won't load up properly.
Below is a list of what I think are the best real money poker apps on the market for the Nexus 7 at the moment.
#1 Nexus Poker App: 888poker
888poker is the best real money poker app full stop, and the fact that it's available on the Nexus makes it our number 1. The software is nice and basic with high contrast and big buttons. You can reach all of the controls easily with your thumbs when holding the Nexus in landscape mode and multi-tasking means you can jump in and out of the app to check Facebook or email no problem. While some might argue that the software at PokerStars is as good if not better, my main reason for choosing 888 as the number one site if the softness of the games. You can play multi table tournaments, sit and gos and cash games there and the standard of opposition is truly awful. You simply don't get games this easy on PokerStars and that's why I never play there any more. 888 are tied to a huge gambling brand and it brings in lots of fish from the casino and sports betting site. Unless you get very unlucky, the first deposit you make on 888poker will most likely be the last one! Read our full 888 android poker review here.


Second on the top 3 we have Terminal Poker. I've included them because they take a different approach. Their games run through your Nexus' web-browser and instead of being sat at a single table you're thrown into a pool of players and as soon as you fold a hand you're whisked off to a new table to play another hand without having to wait for the last hand to play out.  This is a fun way to play poker and they offer tournaments with guaranteed prize pools throughout the day as well as cash games. The built-in casino is also a bit of fun and chance to win some more money. The only downside to Terminal is that they don't have the levels of traffic that you'd get at some of the bigger sites, but the games are generally quite soft. It's worth taking a look at!
This is a site that you may not have heard of, but they're making waves in the online poker world. The main reason for this is that they treat their players REALLY well. They also let you choose your own bonus which means they have something to offer everyone, from the micro stakes right up to the highest available. Their software is licensed by Ongame which have been among the leaders in poker software for almost 10 years now. It's very stable and works well. The only downside is they're a little bit slower to innovate than 888, and for the moment you can only play cash games, though they offer fixed limit, pot limit and no limit Holdem at a variety of stakes from 5c/10c all the way to $3/$6 and you can play at heads-up, 6 seater and 10-seater tables. There is plenty of traffic day-and-night on Red Kings and alongside 888, it's a great app to have on your Nexus.