Switch Poker Overview
Switch Poker is one of the newer players in the online market and when it was created, it was designed specifically to be mobile friendly and it shows in the design. The lobby and game play are no nonsense pure poker, without and fancy graphics or sounds but it works very well. Another really attractive feature of Switch Poker is the ability to play multiple tables. Switch Poker is one of the only Android serving companies to offer this feature.
Switch Poker Android App
An interesting feature of Switch Poker for Android users is that you can play either in your browser or you can download an app that's specifically designed for the Android operating system. The software works well either way, but having things running from the app is a little more desirable as the animations tend to be a bit smoother. If you're installing the app, remember to allow non-marketplace apps in your phone's settings. The software itself is very basic; the lobby consists of the list of games and you can choose from heads-up or 6 max games. The cards and chips are really big and the table isn't cluttered with any unnecessary stuff like avatars. One of the best features of the Switch software is that you can multi-table and have multiple tables on the screen at the same time. This is the only poker site where you can do this. You can have two tables on a mobile phone, and up to 4 on a tablet.
>>Click here to try out the Switch Poker app<<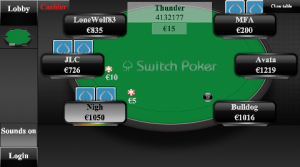 Switch Poker Game Selection
For the moment Switch Poker only host No Limit Holdem cash games but we've heard that multi-table tournament functionality is in the pipeline. Games are available from €0.01/0.02 up to €5/€10 and you can play heads-up or 6-max. The games at Switch Poker are some of the softest you'll ever see. If you open up a €5/€10 table and watch for a while, you won't believe some of the play you see. Considering the standard of these games on other sites, it's quite amazing. The only problem with Switch Poker is that the traffic there isn't great. You'll only really get a full selection of games in the evening time, but in the afternoon and at weekends you're find that there are a couple of tables running at stakes as high as €1/€2.
The rake is as follows with a 'no flop no drop' policy:
| | |
| --- | --- |
| Up to 10c/25c NLH: | €2 |
| 25c/50c & 50c/€1 NLH: | €2.50 |
| €1/€2 to €5/€10 NLH | €3 |
| €10/€20 NLH and above: | €4 |
Switch Poker Bonuses and Promotions
As we said, Switch Poker is a bit of a no-frills poker site. They have a generous €600 first deposit bonus and beyond that there isn't much in the way of promotions. If you want to get the bonus simply input the code: 20TO600 when making your first deposit. The bonus is paid out in €10 increments and you have 6 months to clear it from the time of your deposit.
>>Click here to get the €600 Bonus<<
Compatibility
Switch Poker is compatible with all devices running Android 1.6+ or greater, which is 99% of all Android devices. If you want to use your account elsewhere, Switch also works on:
iPad (limited sounds)
iPhone 3G and iPhone 4 (no sound)
Firefox v3.6.8 or higher
Chrome v5.0 or higher
Safari v5.0 or higher
Opera v10.60 or higher
Internet Explorer v8 (No sound. Compatability mode should be turned off.)
Internet Explorer 9