Welcome to our Terminal Poker review. Terminal Poker is one of the lesser known online poker rooms, and although you can play on a PC or Mac their main focus is mobile phone customers. Their software is optimised for iPhone, Android and Windows Mobile devices. The main selling point of Terminal Poker is the speed of their games. Instead of having individual tables they operate a player pool at each stake level. As soon as you fold your hand at a table, you're taken away from the table to a new one that quickly fills up with other players who have recently folded and a new hand begins. The concept is very similar to Rush Poker on Full Tilt Poker and Zoom Poker on PokerStars.
Terminal Poker Android App
Terminal poker doesn't have a dedicated Android app. Instead, you play the games in your browser. The Terminal Poker window can be easily accessed by placing a bookmark an your desktop which will directly access the Terminal Poker page. In some ways opening up the client is almost as straight forward as having an app. The downside of having the browser based client is that it is not quite as responsive as it would be if all the code was stored on your phone.
Regarding the playability, the graphics are pretty simple which is a good thing given that most Android devices have small screens. Some of the other apps make the mistake of having too much clutter on the screen in their smartphone apps. As you can see from the screen shot below, Terminal's graphics are a little bit cartoon-like, but very good. The developers of Terminal Poker recommend a screen resolution of 480 x 320 for best performance. Within the software there are a couple of options, such as using a 4-colour deck and turning off avatars, but not much else. When it comes to your turn to act, inputting your bet amount can prove quite difficult sometimes as you need to continually press a '+' or '-' until you get to the amount you want to bet. The slider which is featured on other Android apps is a better solution.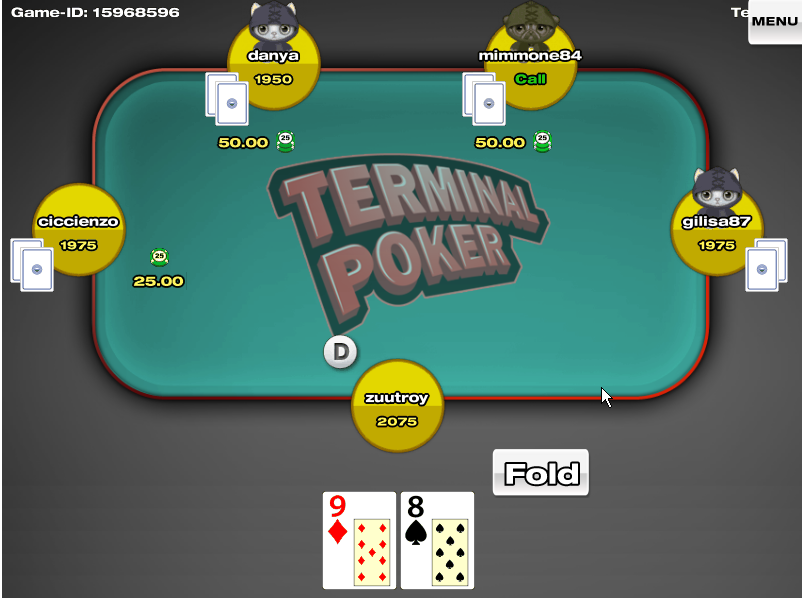 Terminal Poker Game Selection
Terminal poker is one of the few options for Android poker players who want to play pot limit omaha. In addition to holdem, It offers PLO cash games and freerolls, which also makes it the only Android site to offer tournament play, even if it is freerolls only for the time being. The bulk of the traffic at terminal poker is in the freerolls which sometimes get a couple of hundred runners. For cash games, you'll find the player pools at stakes below €0.25/€0.50 are where most of the action is. You won't find a lot of players at the mid-stakes and above and you'll often be playing short handed. One good thing about Terminal however is that the typical player at their €1/€2 tables is much much worse than you'll find at other busier sites.
Terminal Poker Bonus
Terminal poker offer a 200% bonus up to €400, which is released in increments of €20 at a time, as soon as you accrue 2500 player points. You get a point for each €0.02 of rake paid, so to get 2500 points you have to pay €50 in rake, meaning that the bonus gives you about 40% of your rake back, which is extremely generous and above most other bonuses you'll find in online poker.
Summary
Terminal Poker is pretty quiet when it comes to traffic, but if you're a player who plays €0.25/€0.50 or below and like fast paced soft games then it is one of the best choices for Android poker. You'll find that you get far more hands per hour in here than you will at the bigger sites, with less waiting around time, which is important if you want to squeeze a bit of poker in on your phone when you're out and about. The generous bonus means there's no reason not to give it a try and with the combination of the big bonus and bad players, you're sure to make some money when sitting on the train if you play here!