Online Poker Promotions for Summer 2014
With Summer upon us, it's time to a take a look at the latest online poker promotions. Most people would rather be out enjoying the sunshine at this time of year, so the online poker rooms work extra hard on putting together tempting bonuses and promotions to get you back to the tables. Here's a summary of whats going on at the big poker rooms at the moment:
888poker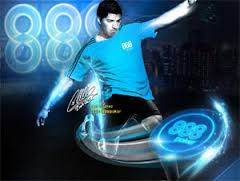 Football Carnival – Get a free ticket to a $10,000 Football Carnival Tournament every day by signing up to 888poker! The best part is that you do not need to add any funds to your account to be eligible for winning the ticket(s).
Tweet for Your Seat – Twitter users will be able to get the chance to win a seat by following 888poker on their Twitter profile page. To take part in this promotion, you need to follow 888poker official channel (@888poker) and start tweeting for your seat. This will also give you instant access to many gifts, prizes and offerings, as well.
Double Your Money! – By joining 888poker today, users get the opportunity to double the amount they add to their deposit. In other words, if you add $50 to your account, you will receive $50 for free. With an welcome bonus of up to $400, this can definitely be an amazing opportunity.
Red Kings Poker
The World Cup PS4 Giveaway – Earn One Race point a day on cash games for 16 days and get the chance to win a free roll of $10,000 in prizes and awards. Note: One Race point = 50 RedKings Player points. The first 10 players win PlayStation 4 console and a FIFA 2014 game.
Point Per Day Mobile – This promotion allows Red Kings Poker players to win one of the two iPad Minis provided by the website. To have a chance to win, you need to collect Race points using any mobile device or tablet and do the prize requirements in race points. Minimum requirement is 10 race points, and you win.
Bet365 Poker
Beginners Welcome – All new players who join Bet365 will be able to play on the Beginners' Cash Tables for 90 days prior to opening an account. This allows them to play only with new players, to avoid losing money. They can choose to play on Beginners' Cash Tables by going to Cash Tables section and selecting Beginner's Table.
€1,000 Opening Bonus – New users who come to Bet365 will be able to get a 200% bonus on the amount that they deposit to their account, up to €1,000. The bonus is given at a rate of €10 for every 1,000 Merit Points they earn. By making your first deposit or transfer, your account will be credited with a free Tournament Token for the €100 New Depositor Freeroll at Bet354 poker.
Other promotions: Premium Tables and Road To Rio.
Terminal Poker
200% Up To €400 Bonus – Users who want to register at Terminal Poker will be able to get up to €400 bonus using the coupon code TP400.
€20 Almost Instantly! – Terminal Poker offers users the excellent opportunity to get a free bonus of $20 by using the TER20 at their first deposit.
Switch Poker
Free €5 Euro – To get a bonus of $5, users who join Switch Poker have to verify their phone number, without being required to deposit any money to their account. The amount is instantaneously received to their account. No coupon code required.
Free €5 Micro deposit – First-time depositors can get a bonus of $5, but only if they add $0.50 to their deposit and use the coupon code: FREE5.
€600 Bonus – To be eligible for this promotion, Switch Poker users have to deposit any amount between €20 and €600, and have 2500 SPPs / €10 bonus. Moreover, they have to complete the challenge during six months' time, and use the coupon code: 20TO600.